A kitten was found outside sleeping in a corner, waiting for help. Now, he has endless attention from cats and people.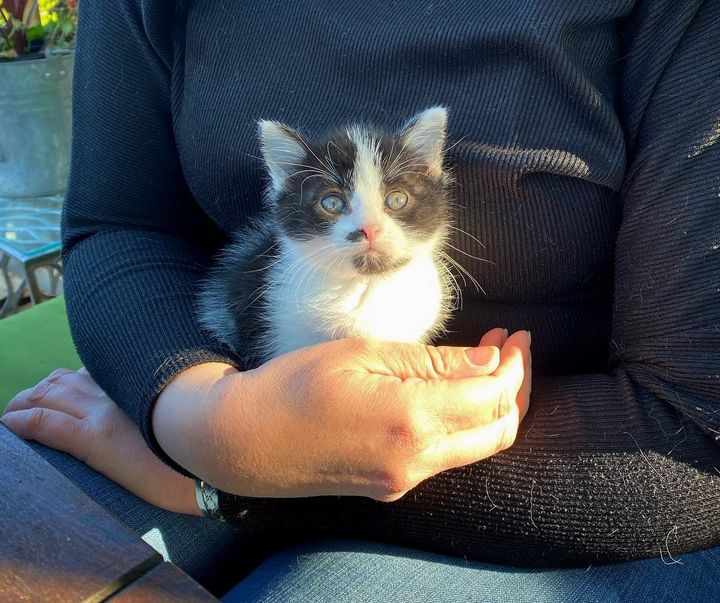 TilukyChatonsOrphelinsMontreal
Ben and his family from Montreal have set up shelters in their yard for community cats, so they can have a roof over their heads to protect them from the elements.
While the family provides food and shelter, they also work on getting the cats fixed and helping those who need rescue.
They noticed that one of the feral cats had kittens, and at some point, she brought them to his yard. The cat mom left the babies there and never returned.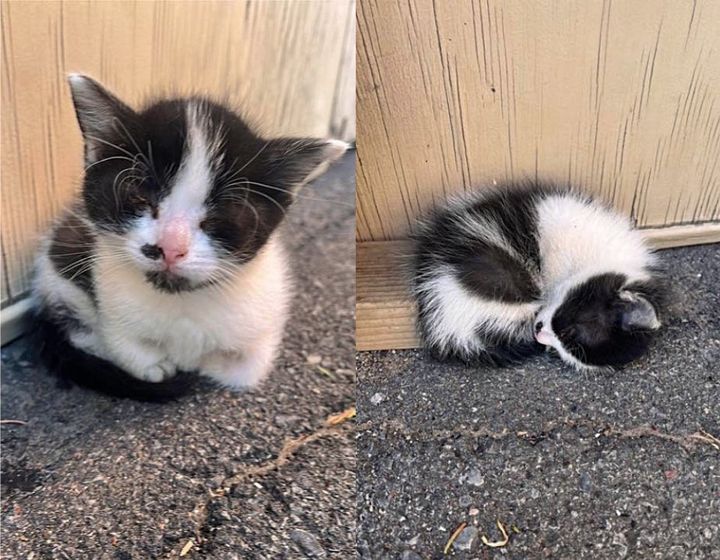 He was found sleeping alone outsideChatonsOrphelinsMontreal
By the time Ben found the litter, sadly only one kitten survived. He was very fatigued and curled up in a ball, trying to rest.
"The kitten with crusty eyes was found outside sleeping alone in a corner. He was so tiny and could barely see anything. He wouldn't have survived in this state much longer," Celine Crom of Chatons Orphelins Montreal shared with Love Meow.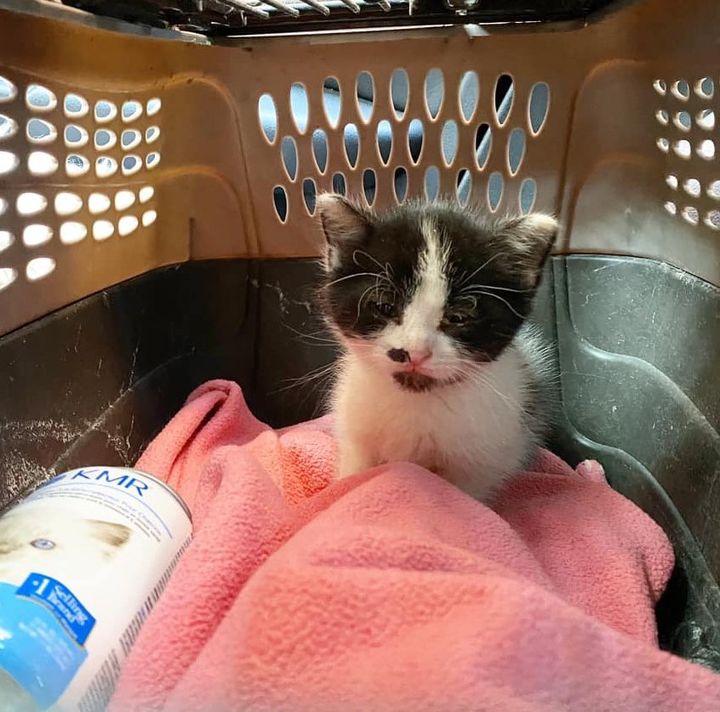 ChatonsOrphelinsMontreal
The family immediately took the kitten inside to keep him warm and reached out to their local rescue, Chatons Orphelins Montreal, for help. "We took him into our care right away and named him Tiluky."
Tiluky was severely underweight and had a distended stomach due to parasites. "He was just skin and bones, but he was a fighter."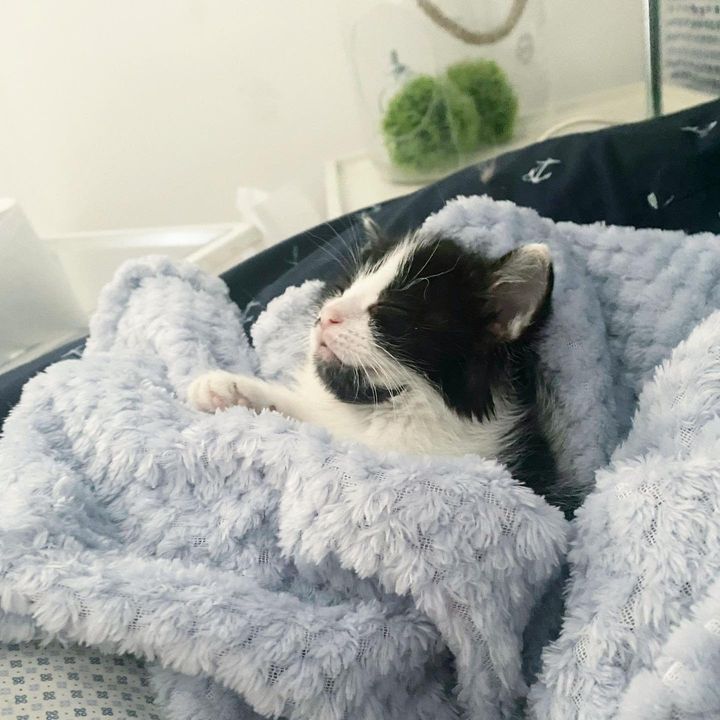 ChatonsOrphelinsMontreal
The kitten was treated for eye, ear and stomach issues. For the first few days, Tiluky needed assistance to get food down as he was too frail to eat on his own.
After each meal, he would gravitate towards a heat source and bundle up next to it for a long healing siesta.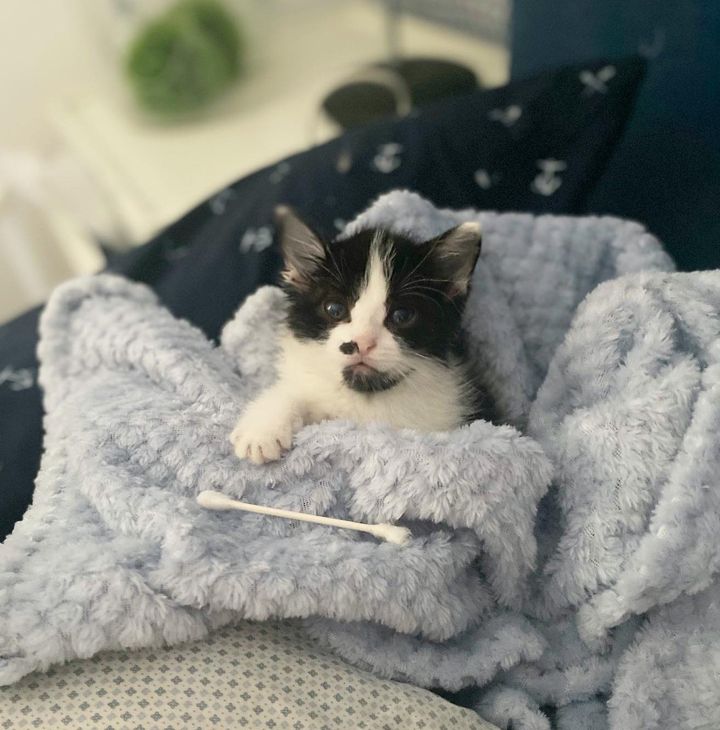 ChatonsOrphelinsMontreal
With great care and good food, Tiluky started to make good gains and his appetite also improved.
"He wanted us to stay with him while he ate. He constantly looked for a warm body to cuddle with. Without a littermate, he stayed close to the heat source when he napped."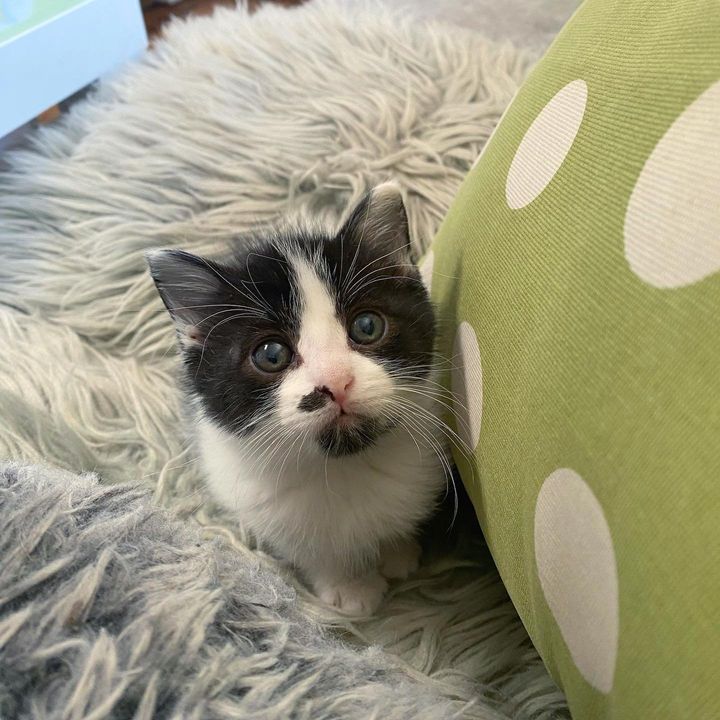 ChatonsOrphelinsMontreal
Once Tiluky healed up completely and was ready to socialize, he was introduced to other cats in the house. Marscha, the resident super senior, immediately took the kitten under her wing.
Marscha was rescued and adopted by Celine when she was 14 years old, and she has helped many foster kittens since.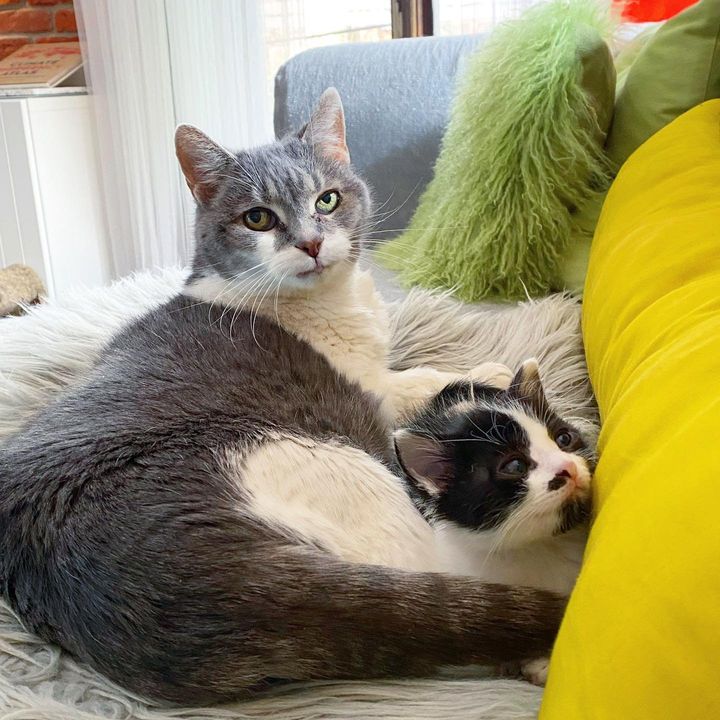 Marscha and TilukyChatonsOrphelinsMontreal
At 21, she is still a great source of comfort for orphaned kittens. Marscha showers Tiluky with cuddles and the love of a mother.
When Tiluky isn't demanding attention from people, he is likely snuggling or napping with Marscha.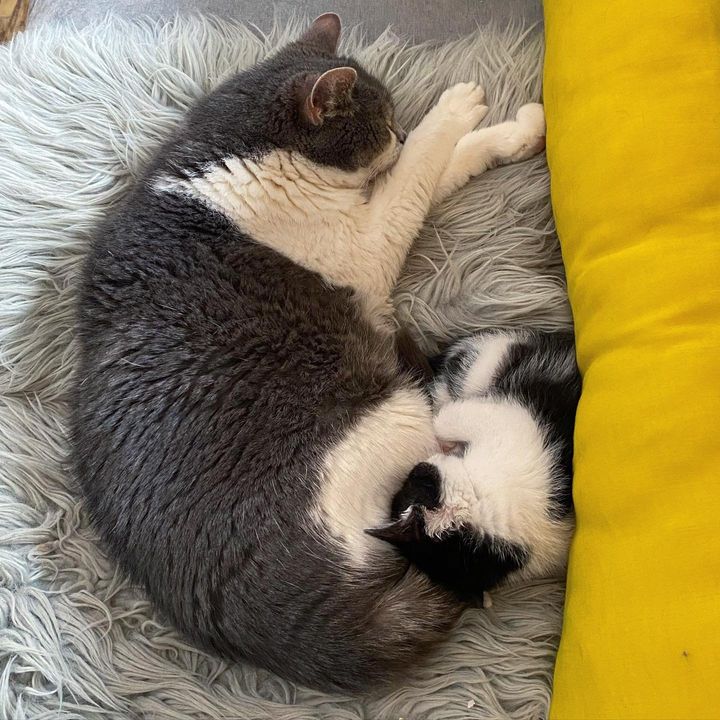 ChatonsOrphelinsMontreal
Tiluky also met Tatoo, a foster buddy from the rescue. He sauntered up to greet the big kitty and began emulating him, honing his feline skills.
Tatoo doesn't mind having a little protege following him around. He is happy to show the kitten the ropes and teach him how to be a cat.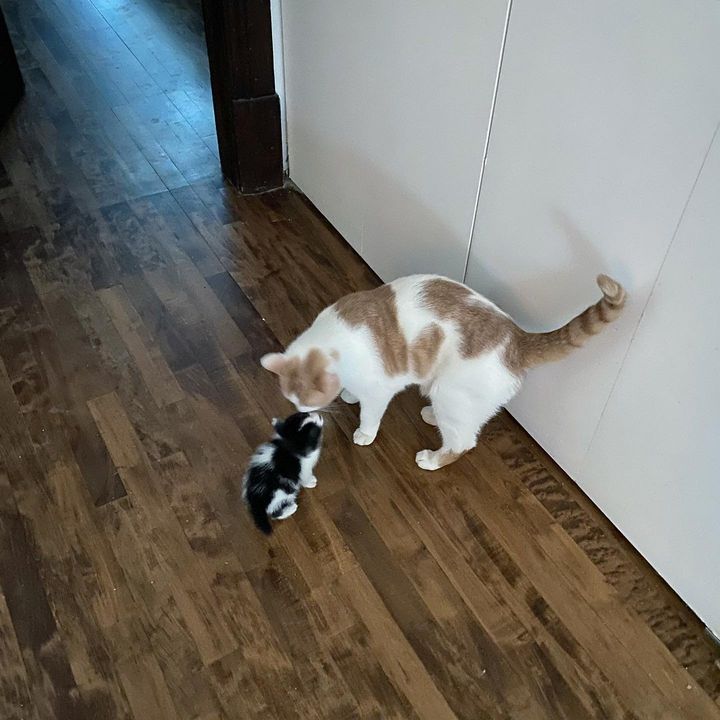 Tiluky and TatooChatonsOrphelinsMontreal
Tiluky has been hand-reared since he was rescued. He adores people and seeks affection from them. He wants to be cradled, held and loved on whenever he has a chance.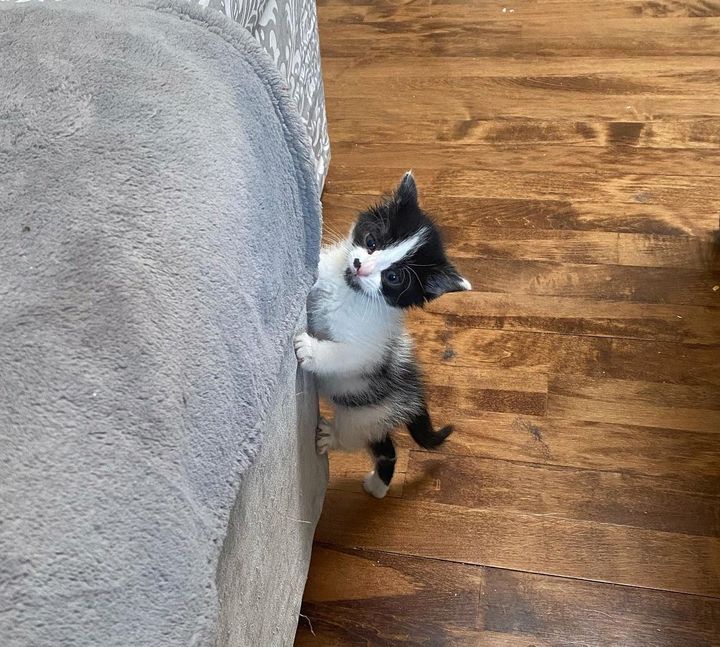 ChatonsOrphelinsMontreal
"He is bursting with energy even though he is still so small. He always moves around by our feet, looking and asking for attention," Celine shared with Love Meow.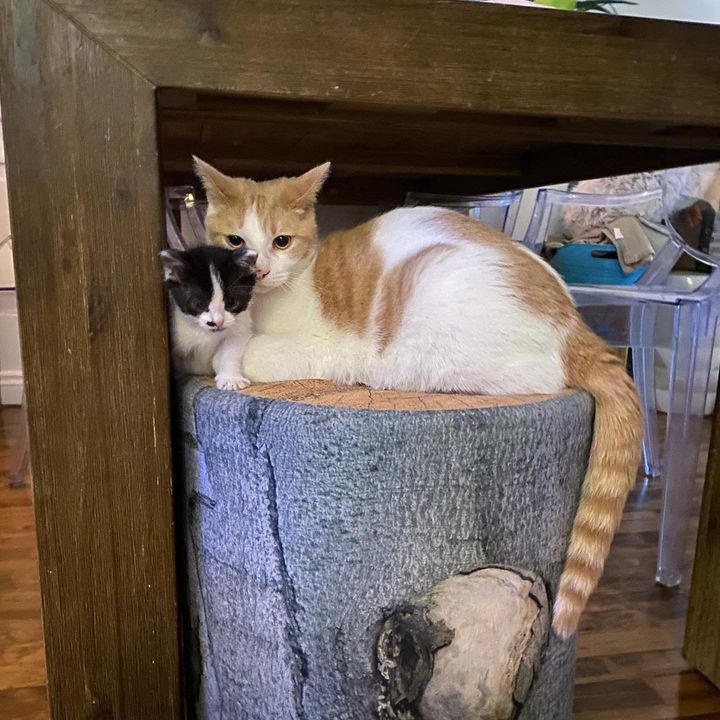 ChatonsOrphelinsMontreal
After a tough beginning, Tiluky is blossoming into a playful, snuggly kitten. He likes to go around the house, giving everyone a dose of his love each day, living the best life.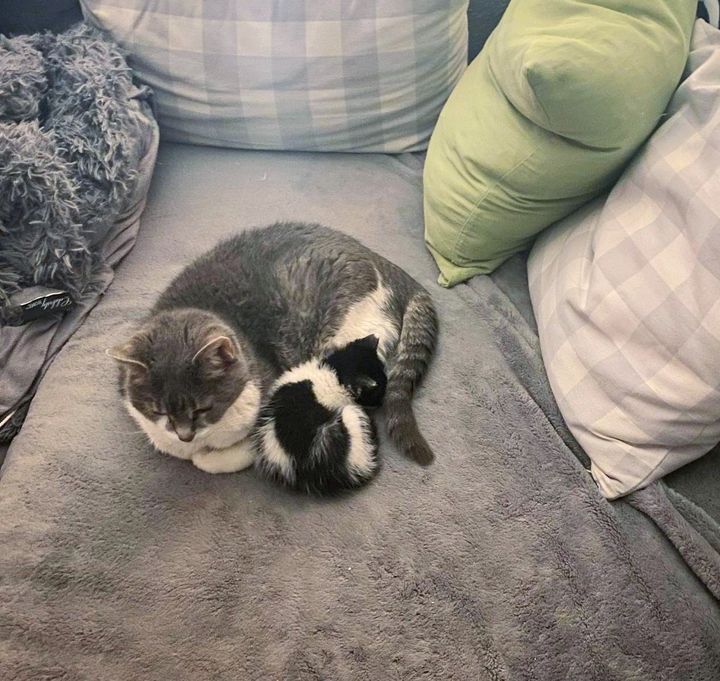 ChatonsOrphelinsMontreal