A cat huddled in a corner with her kittens at a shelter until someone opened their home and changed their lives.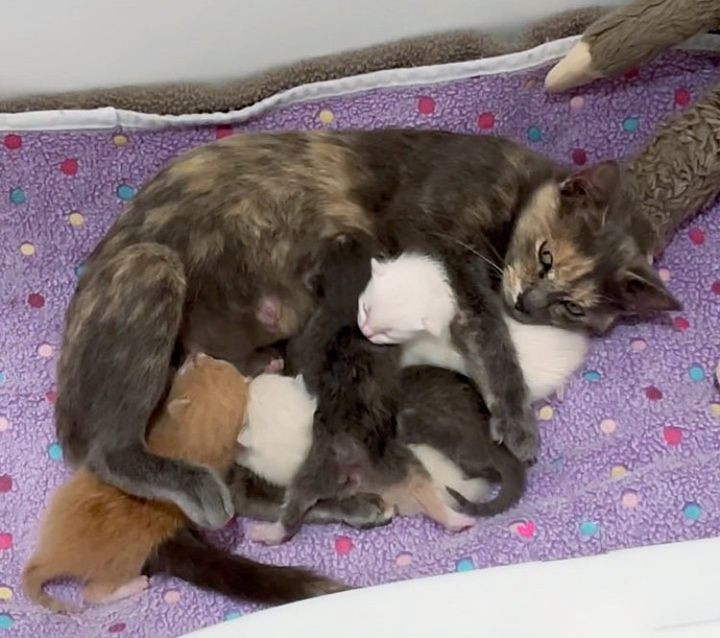 Cherry the catBe Their Voice
Last month, Aimee of Be Their Voice Animal Rescue was apprised of a cat mom and her litter of five needing help.
The cat was frozen in fear, huddling with her kittens in a corner, trying to shield them from the sounds at the shelter. They desperately needed a foster home, so Aimee rushed to their rescue and brought them to safety with Be Their Voice.
"She was so skinny – she weighted only six pounds after having given birth. You could feel every bone in her body," Aimee told Love Meow.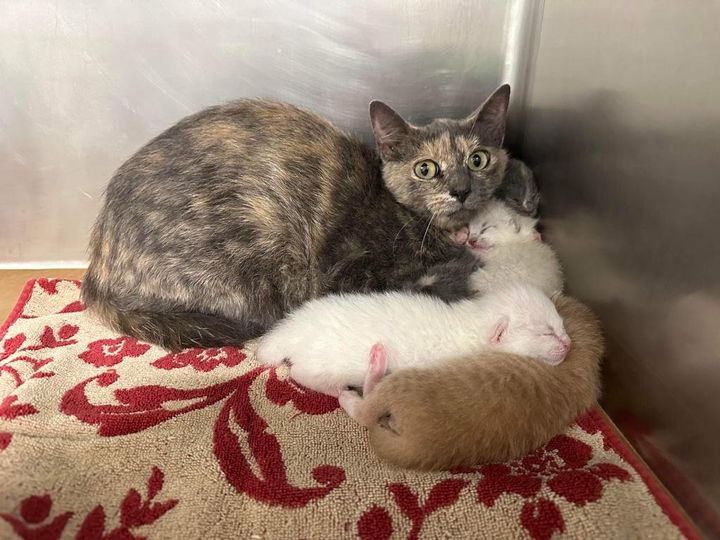 She huddled up with her kittens at a shelterBe Their Voice
As soon as they arrived in foster care, they relaxed in the quiet and comfortable space set up for them.
Without the ruckus and uncertainty, the cat mom, Cherry, started tending to her kittens and the wariness in her eyes waned. She was pleased with the bountiful supply of food and all the blankets at her disposal.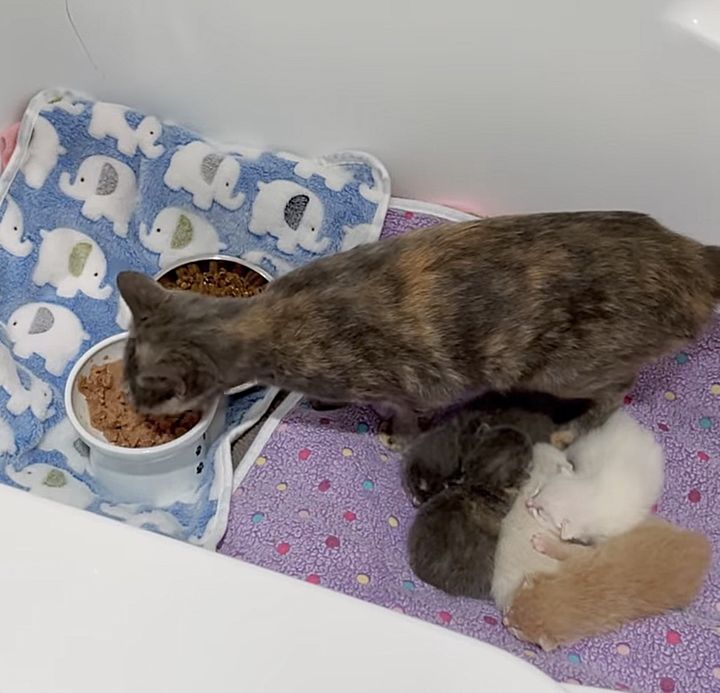 She quickly settled into a foster home with her kittensBe Their Voice
Cherry quickly warmed up to her foster mom and even took a break from nursing to explore around the place. She was intrigued with everything she saw and happy to pack in some more snacks along the way.
"Despite everything she had been through, she was the sweetest. She immediately made herself at home, knowing she and her babies were safe."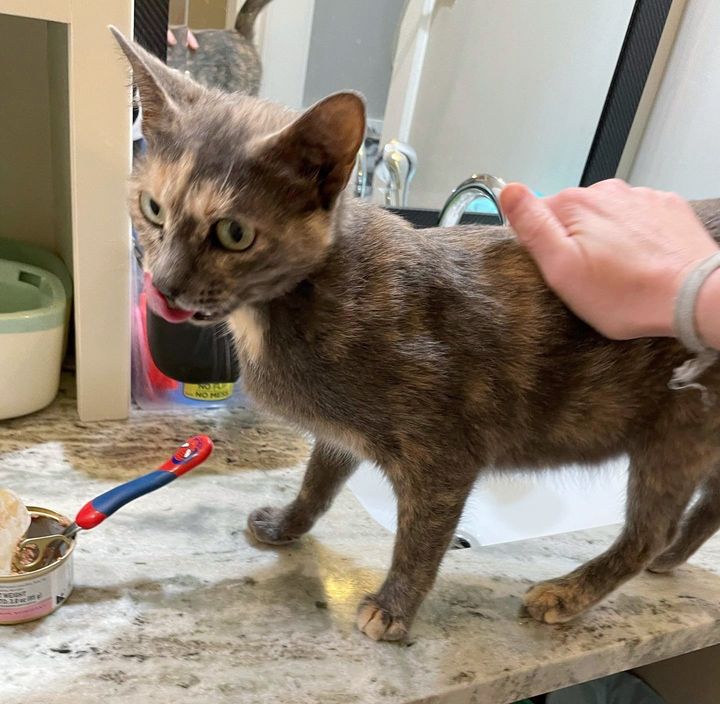 Cherry warmed up to her people and turned into a very sweet catBe Their Voice
Within two days in foster care, Cherry really blossomed. She found her way onto Aimee's lap and absolutely reveled in her company.
She was an attention-seeker and a lap hogger. "She would have laid there as long as I let her."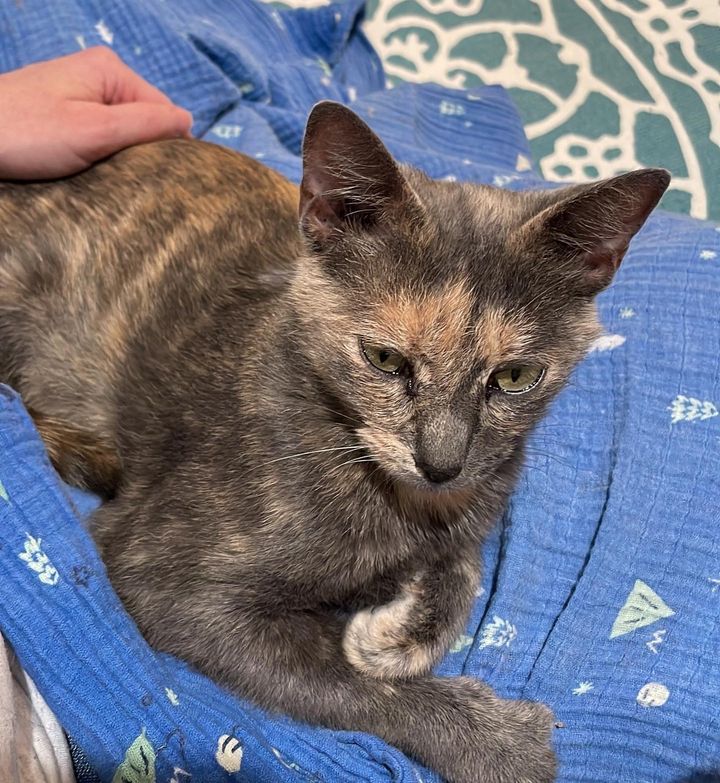 She was happy to have a warm lap to sit onBe Their Voice
The kittens grew in size and strength, and began to figure out how to use their legs. They tried to venture around their pen but cried for Mama Cherry in the midst of their mini excursion.
About a month after arriving, Cherry was taken to the vet for some ongoing stomach issues.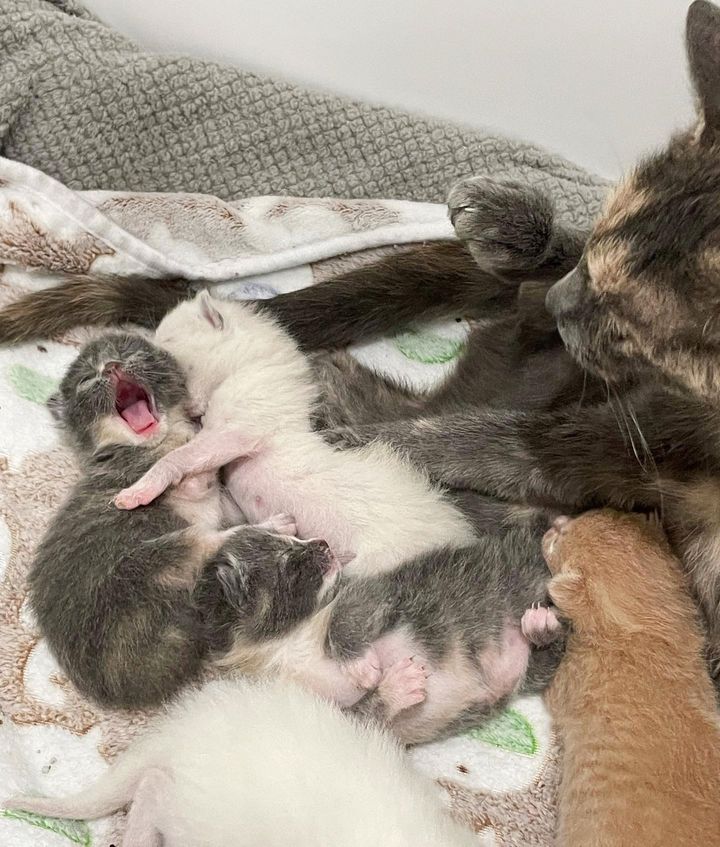 Be Their Voice
"While there, we took the opportunity to get her and the babies combo tested (for FIV and FeLV). Unfortunately, she came back FeLV positive," Aimee told Love Meow.
The kittens had to be separated from the mom to cut out their exposure to the virus. Cherry stayed at the clinic to recuperate and was officially retiring from motherhood.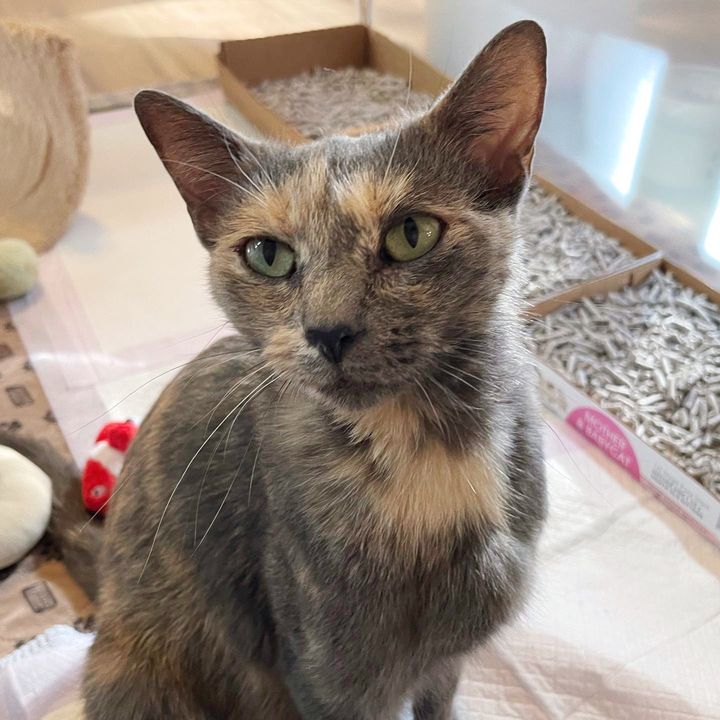 Be Their Voice
She was so sweet to the veterinary staff that cared for her, and content as if she knew her kittens were in good hands. "Everyone at the clinic absolutely loved her."
The kittens continued to thrive under the care of their foster mom. They learned to eat on their own and would pounce on each other, playing their hearts out.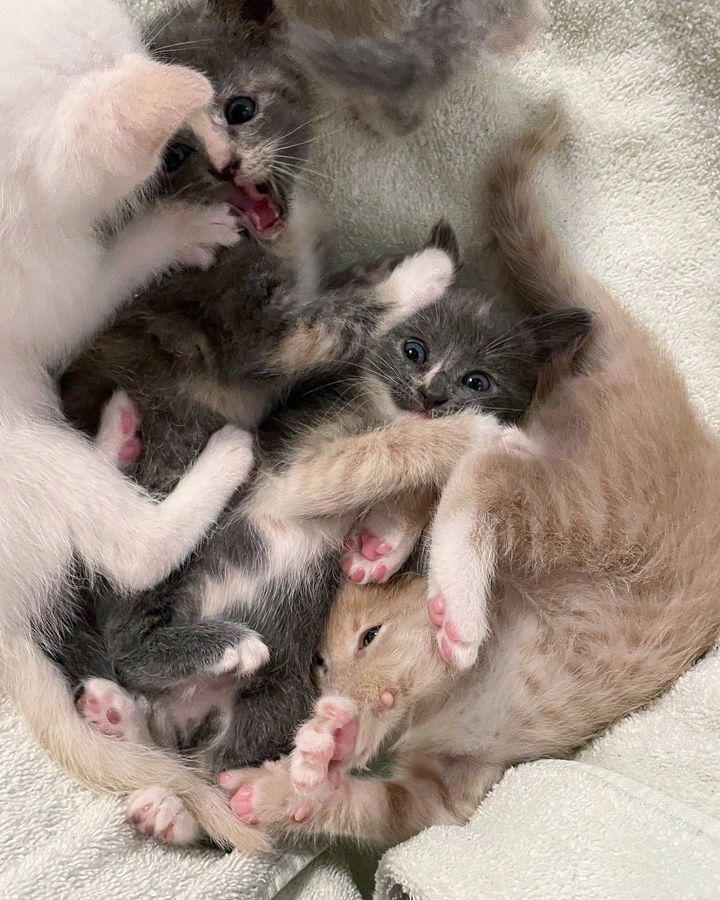 Be Their Voice
Aimee found herself being covered under a pile of sleepy kittens. "My leg was fully asleep. But as we all know, you don't wake a cat or kitten when they fall asleep in your lap."
When Cherry was ready for adoption, they hoped to find her the perfect home that she so deserved, and it didn't take long.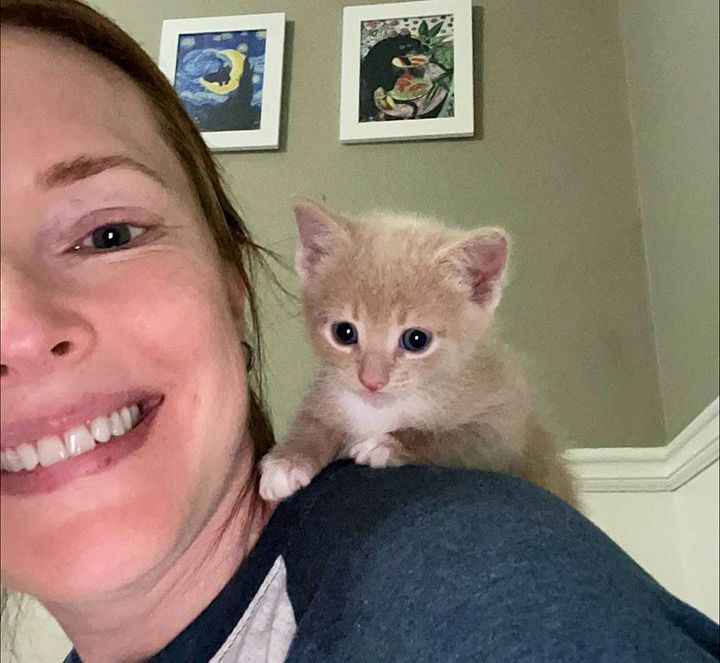 Be Their Voice
"She has found a lovely home with lots of windows from which to gaze upon her kingdom. She will have another FeLV buddy and two golden retrievers in her new home," Aimee shared.
"She truly is a very special cat: sweet, calm, loving and trusting of everyone she meets."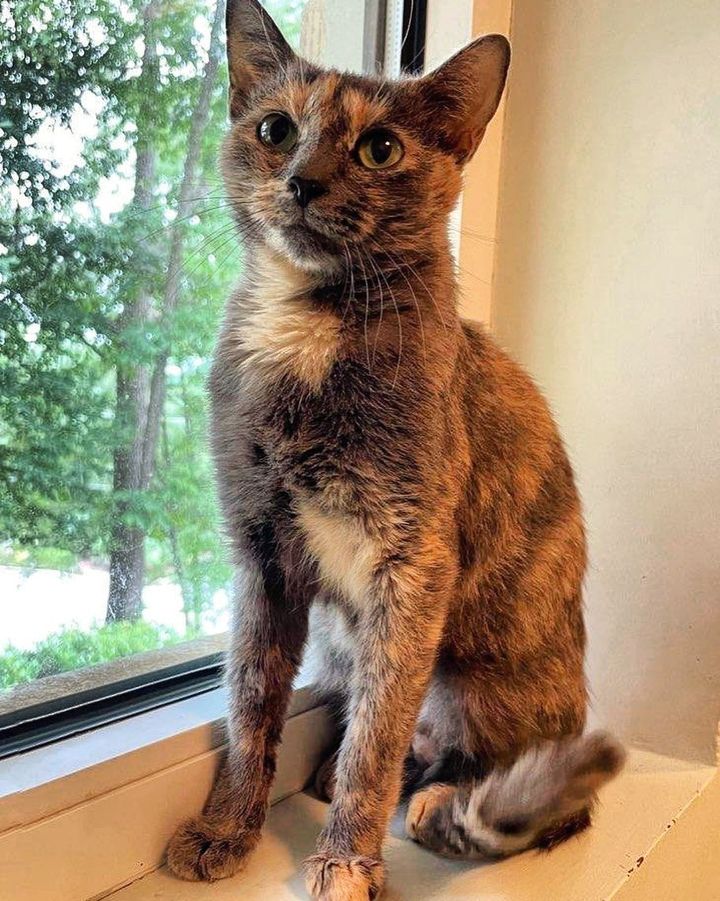 Be Their Voice
While the kittens still have a lot of growing up to do, Cherry is on her way to her new home where she will live the pampered life she's always wanted.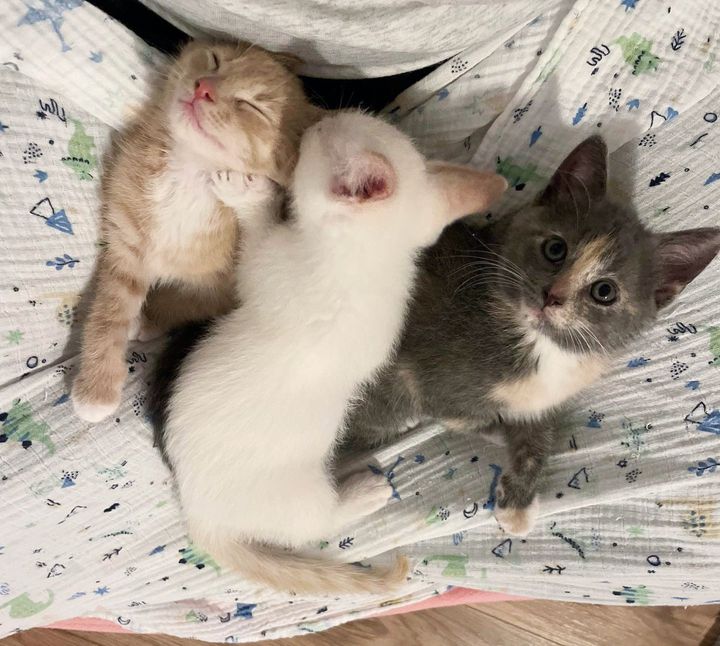 Be Their Voice