A cat who has been named Slick is currently and thankfully on his road to recovery after being found doused in motor oil and left for dead.
Vets who world at the Idaho Falls Animal Shelter raced to save the seven-year-old orange tabby after animal control officers were summoned to pick up the maltreated animal over the weekend.
'Slick was cruelly doused in motor oil before he ended up in our care,' the shelter commented in a Facebook post.
'He was taken to the vet and had to be immediately sedated so that he could be shaved and bathed.'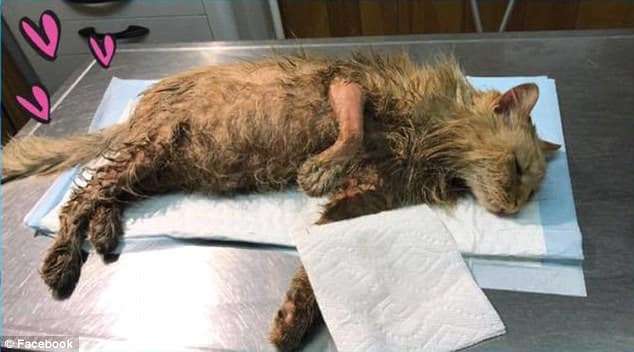 Vets at the Northgate Veterinary Clinic literally raced to save the mistreated tabby's life.
The cat had been trying desperately to clean himself by licking his fur, and sadly, 'ingested a large amount of motor oil' in the process, the shelter said.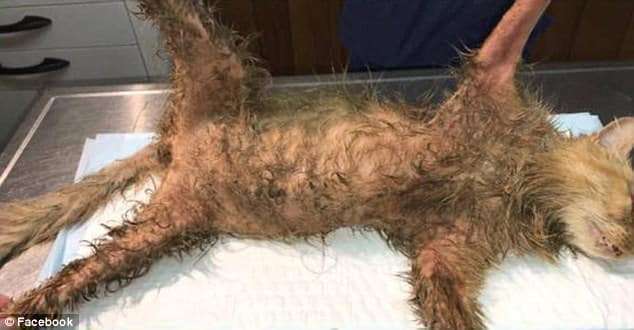 Slick was given IV fluids in an attempt to clear out the oil, which could damage his kidneys.
Fortunately for this cat, more than enough donations have poured in to cover the cost of Slick's care, the animal shelter stated.
The cat is now expected to recover completely and will be up for adoption soon, shelter workers said.
Meanwhile, police and authorities are looking for the person responsible for Slick's cruel treatment.
'We have a few ideas of who might have done this to the cat,' Idaho Falls Animal Services Manager Irene Brown admitted to EastIdahoNews.com.
'We want to charge whoever was responsible for this cruel act, but need witnesses to come forward.'
Brown also stated that instead of abusing an unwanted animal, people should phone animal control to deal with the pet humanely.
'There is no reason anyone should have done this,' Brown stated. 'I don't care what the situation is – we are here to help and could have picked up the animal. It's too bad somebody decided to take their anger out on Slick.'